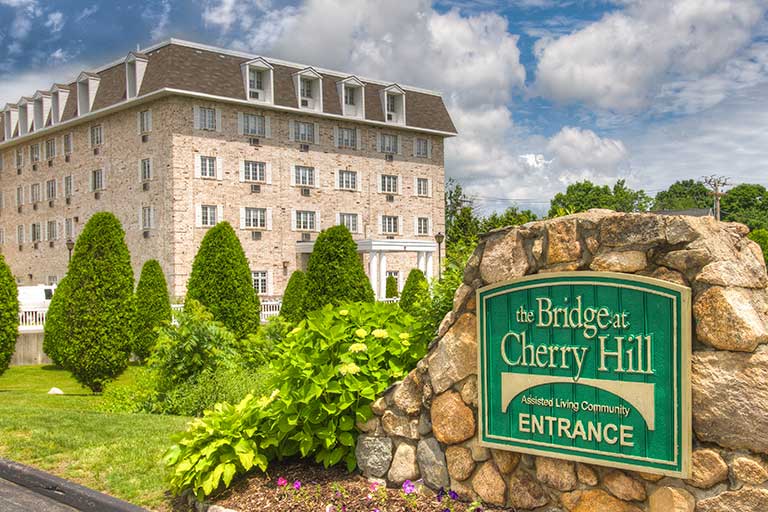 The Bridge at Cherry Hill, located in beautiful Johnston, Rhode Island, is a premier assisted living community dedicated to ensuring a fulfilling retirement for seniors.
Residents of The Bridge enjoy resort-style services and amenities set in a homelike environment. Associates of The Bridge are passionate about the well-being of each resident and strive to maintain their highest level of independence. From a schedule of dynamic activities to our hospitable staff, our goal is to promote an active, carefree lifestyle.
Johnston, Rhode Island, is home to intriguing museums, beautiful parks, exquisite architecture and unique restaurants and shops. Our lifestyle services staff takes advantage of Rhode Island's many attractions and provides ample opportunities for residents to participate in excursions. Our transportation services make sure residents get where they need to go.
Assisted Living in Johnston, Rhode Island
The Bridge at Cherry Hill in Johnston, Rhode Island, offers the care and support needed by seniors who are unable to live alone yet do not require the services of skilled nursing.
Our resort-style community provides private apartments for residents and assistance with activities of daily living, such as bathing, dressing and medication management.
Residents are also given the freedom to select gourmet meals within their preferences in our fine dining room. Dietary staff ensures residents' nutritional needs are met and special diets are adhered to.
It is our goal to promote the well-being of each resident by encouraging them to live the most independent life possible, enhanced by kindness, personalized services and quality care.
Services & Amenities
The Bridge at Cherry Hill in Johnston, Rhode Island, welcomes you with a warm and dedicated care team committed to creating a community you will be delighted to call home. With no buy-in fees and convenient month-to-month leasing, our residents have the flexibility and freedom should their needs change, and the services and amenities to make it all worthwhile.
Our facility combines a rewarding lifestyle with comfortable accommodations, with our care team assisting in daily activities such as dressing, apartment maintenance, linen services, restaurant-style dining and transportation services. With all these tedious services covered, our residents have the freedom to enjoy a wonderful community with the comfort of knowing our associates are available if needed. While residents enjoy the privacy of their own apartments, we dedicate a portion of common space for visiting with friends and family, reading the paper in the lobby or enjoying a good book in our elegant library. We use our residents' own interests and hobbies to guide the design of our full calendar of social, cultural, educational, physical and creative activities. From bingo to billiards, we've got you covered.
To ensure resident safety, our entire facility is closely monitored by a 24-hour emergency response system, and associates are always on hand.
The Bridge at Cherry Hill
1 Cherry Hill Road, Johnston, Rhode Island 02919
Property Type :
Assisted Living
Starting at Price :
$5,000 Per Month